Meet the EESDC Leadership Team
Dr. Badege Bishaw, President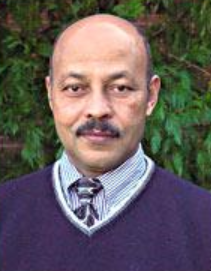 Dr. Badege Bishaw was educated in Africa, Europe and the United States. He has over 35 years of experience in forestry, natural resources and agriculture education, research, outreach and administration. He received his Ph.D. in 1993 from Oregon State University (OSU) in Forest Resources and an MS in 1985 from the University of Dresden, Germany in Tropical Forestry, and a B.Sc. in Plant Sciences 1979 from Addis Ababa University, Ethiopia.
He was the Director of the Master of Natural Resources program. He also served Director of the Sustainable Natural Resources and the Forests and Climate Change Graduate Certificate programs in the Department of Forest Ecosystems and Society, College of Forestry, OSU. He was the Director of the International Programs, College of Forestry OSU. He served as Chairman, Faculty of Forestry, Alemaya University of Agriculture, Ethiopia (1987-1989). He was a Senior Instructor (2013 -2021), and taught Agroforestry, International Forestry, and Sustainable Natural Resources courses for undergraduate and graduate students at Oregon State University (OSU).
He has published many articles in peer-reviewed journals, book chapters and conference proceedings. He has also attended many national and international conferences, and presented invited and volunteered papers.
Dr. Bishaw has substantial experience in project management and program administration working nationally and internationally. He has worked as Project Co-director for two USAID-funded higher education partnerships between Oregon State University and universities and national research institutions in South Africa and Ethiopia. These projects have an outreach programs to address food security, watershed management, poverty alleviation and land degradation. He also led a collaborative project between the World Agroforestry Center (ICRAF) and OSU.
 He has received many academic, service and leadership awards for his exemplary and extraordinary accomplishments in agroforestry, forestry and natural resources education, research, outreach and administration from OSU, national and international organizations. He served as the President, Association for Temperate Agroforestry in North America (2017-2019). Currently, he is the President of the Ethiopian Environment and Sustainable Development Council (EESDC) a U.S. based NGO. He retired from Oregon State University on July 2021.
Dr. Temesgen Hailemariam, Secretary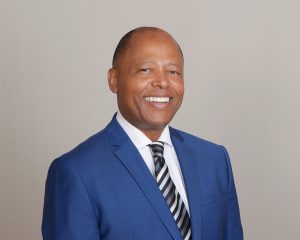 Temesgen Hailemariam, Professor of Forest Measurements and Biometrics at Oregon State University (OSU), holds a B.Sc. degree from Alemaya University, an M.Sc. degree in Quantitative Methods from Lakehead University, and a Ph.D. degree in Forest Biometrics from the University of British Columbia (UBC).
He teaches Sustainable Forest Management, Forest Measurements, and Forest Biometrics and leads the Forest Biometrics and Measurements Lab at OSU. Before joining OSU in 2003, he taught Forest Measurements and Biometrics at UBC and Applied Statistics and Forest Modeling for the United Nations.
As a senior analyst and lead consultant in the natural resources sector, Dr. Temesgen has completed several resource measurements and biometrics projects in 10 countries spanning over four continents. A Deputy for IUFRO Division 4 (Forest Assessment, Modeling, and Management), Dr. Temesgen serves on two Editorial Boards of international peer-review journals. His research has been published in over 125 technical papers, including 95 refereed journal articles.  
Engineer Aynshet Gelagay, Treasurer
Dr. Teferi Tsegaye, Board Member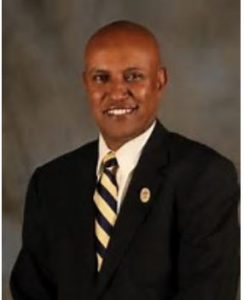 Dr. Teferi Tsegaye is the National Program Leader for Water resources (Water Availability & Watershed Management), part of Natural Resources and Sustainable Agricultural Systems in the Office of National Programs, United States Department of Agriculture Agricultural Research Service (USDA ARS), Beltsville, MD. He directs research at approximately 29 ARS laboratories throughout the US on topics related to: 1) effective water management in agriculture; 2) erosion, sedimentation, and water quality protection; 3) improving conservation effectiveness; and 4) improving watershed management and ecosystem services in agricultural landscapes. Additional responsibilities include managing and leading the ARS' Long-term Agroecosystems Research (LTAR) and the Conservation Effects Assessment network projects.
Before coming to ARS, Dr. Tsegaye was an Associate Vice President of Land Grant Programs, Dean of the College of Agriculture, Food Science and Sustainable Systems, and Professor at Kentucky State University. Dr. Tsegaye received BSc and MSc degrees from Oklahoma State University, Stillwater, Oklahoma in 1984 and 1986, respectively. He then received a Ph.D. degree in Soil Physics/Geostatistics from University of Maryland at College Park, Maryland, in 1994.
Dr. Tsegaye is an expert in Soil Physics, Environmental Science and Watershed Water Resources Management. Among his many accomplishments, he has been the driving force in establishing new environmental monitoring networks, such as the Alabama Mesonet (ALMNet), a key tool for monitoring and predicting numerous parameters to study the impact of land use/cover change on climate change and water quality monitoring at the watershed scale.
Dr. Tsegaye has been appointed and served on several committees on a local, regional, national, and international level including the Member of the Advisory Committee to the US EPA Administrator, US EPA Farm, Ranch, Rural, Communities; Chair for the USDA Southern Regional Water Program, and Program Leader for the Southern Region Watershed Assessment and Modeling focus area for the USDA NIFA Water Program.
Dr. Tsegaye is a Fellow of the American Society of Agronomy (ASA), Soil Science Society of America (SSSA), Food System Leadership Institute (FSLI), Millennium Leadership Institute (MLI), and African Scientific Institute (ASI). Tsegaye joined USDA ARS, Office of National Programs, Natural Resources and Sustainable Agricultural Systems (NRSAS) in 2016
Dr. Assefa Gebre-Amlak, Board Member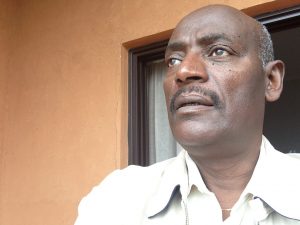 Dr. Assefa Gebre-Amlak has been working within the higher education system for more than 40 years. As the former Dean and Associate Professor of Entomology at Awassa College of Agriculture, Addis Ababa University, he developed agricultural programs that contributed to sustainable agricultural development and improved food security. He taught agricultural entomology, crop protection and Integrated pest management (IPM) courses both in graduate and undergraduate programs. He supervised PhD and MS students and served in graduate committees in various universities. His African maize stem borer management research has contributed to increased food production and results have been published in Ethiopian, African as well as in international scientific journals.
In USA, he was a Senior Fulbright Scholar and Visiting Professor at Oklahoma State University and, he was Extension Specialist at Colorado State University until his retirement in December 2020. He identified and implemented agricultural extension/education programs in crop production and pest management. Since 2012, he has been working closely with Ethiopian universities and the Ethiopian Ministry of Science and Higher Education (MoSHE) to improve the integration of teaching, research, and community service to effectively address the pressing public/community problems and make direct contribution to sustainable development of the country.
Dr. Tsedeke Abate, Board Member
Dr. Tsedeke Abate is a world-renowned agricultural scientist serving Ethiopian agriculture for more than four decades now. Through his practical and problem-solving research at the Ethiopian Institute of Agricultural Research (EIAR), Tsedeke helped his institution to earn good reputation from the public at large, policy makers and the international development community; he also inspired the research community by setting examples.
As Director General of EIAR, Tsedeke brought in transformational change to the research system through the introduction of what he called "Ejj-Le-Ejj" (hand-in-hand) approach – i.e. working together with all stakeholders to transform Ethiopian agriculture. He helped the Ethiopian Agricultural Research System to be the first in Africa to focus on scaling up proven technologies and introduce value chain approach. As leader of two of Africa's largest and most high profile research and development projects – Drought Tolerant Maize for Africa (with CIMMYT) and Tropical Legumes II in Africa and India (with ICRISAT) – Tsedeke helped the profile of African agriculture to reach new heights.
He worked hard to help young African researchers towards taking the leadership in their agricultural development agenda. Through his impactful publications, Tsedeke helped Ethiopia and Africa put on the map and contributed towards changing the narrative on African agriculture. Currently, Tsedeke is leading Homegrown Vision, an independent think tank on agriculture that he founded in 2018. He obtained his PhD from Simon Fraser University in Canada, and his MSc and BSc (with high honors) from University of Florida in the USA.
Dr. Melaku Bekele, Board Member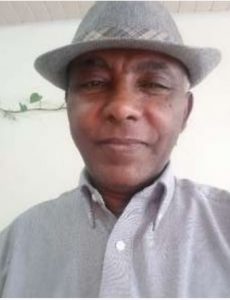 Dr. Melaku Bekele has PhD in Rural Development (SLU, Upsala, 2003), MPhil in forest history (Bangor, UK, 1992) and BSc in History (AAU, 1985). His area of specialization is land/forest tenure and policy as well as forest history.
Beside his teaching, research and advisership responsibilities in Wondo Genet College of Forestry and Natural Resources, he served the College as Vice Dean and Dean for over nine years during which time he steered the establishment of various academic curricula including PhD programs. He taught such course like Forest and Wildlife Policy and Law; Climate Change Governance, Conventions and Policy and others.at undergraduate and graduate level.
From 2012 to present Dr Melaku is serving as General Manager of Conscientia Training, Consultancy and Research PLC which he helped establish together with prominent researchers and consultants to work in areas of forestry, climate change and REDD+, etc.
He produced a number of peer reviewed journal articles, book chapters, published consultancy reports in areas of land/forest tenure, forest management, forest history and the REDD+ policy of Ethiopia. Through his long teaching, research and consultancy experiences, Dr Melaku is able to accumulate vast knowledge on the limitations, challenges and potential improvement areas of forest management practices in the country.
He is currently preparing to revise a teaching material he produced in 2009 titled: Natural Resources Policy and Law (Ethiopia) which is still serving as a reference to related courses in the College. He remained affiliated to the College and provides courses to graduate students.
Dr. Asresu Misiker, Board Member
Dr. Demissew Sertse, Board Member
Demissew Sertse is a PhD holder in biology with a recent focus on quantitative and population genetics.  He worked with the Ethiopian Institute of Agricultural Research where he contributed for the release of four cultivars and the idea of controlling the invasive woody species Prosopis juliflora in Afar through its utilization; the idea that transformed the livelihood of many of the local community members.
Demissew also provided empirical evidence against the controversial patent claim on Tef by the Dutch company S&C. He captured a photo of a potentially new sub-species of Pates monkey on his trip and alerted primate experts to revise the taxonomy of the animal.
He is good at generating ideas and designing strategies to solve problems so long as educated well about the problems. These include solutions for large-scale impacts that can be input for government policy setup. He was invited and shared ideas to the Public Consultative Forum of Ethiopia on Peace, Development, and Democracy (PCFEPDD), a professional forum under the auspices of the former Ethiopian President H.E Girma Woldegiorgis.
Demissew worked with Agriculture and Agri-Food Canada and currently works with National Research Council Canada.  Demissew is now interested in searching genetic signatures of historical selection and hybridization events and applying quantitative techniques to trace genetic information underlying environmental adaptations and important traits of interest such as disease resistance and yield in crops.   
Dr. Brook Lemma Board Member
Dr. Amha Belay, Board Member
Dr. Amha Belay is currently a Visiting Scholar at UCSD and CEO of Algae4All, LLC, a consulting company focused on algae biomass production, quality assurance, product development, regulatory guidance, management, project evaluation and education.
Up to recently, Dr. Belay was Sr. Vice President and CTO of Earthrise Nutritionals, a company that has been engaged in outdoor Spirulina biomass production for food, feed, dietary supplements and nutraceuticals for about 40 years. He oversaw all scientific, technical, and regulatory aspects of Spirulina production. He has an extensive experience in microalgae biomass production, algal product development, quality assurance and health and other applications of algae in general and Spirulina in particular. He is actively engaged in research on algae production for food, feed, fuel and biochemicals. He serves as a technical advisor, board member and expert reviewer of several organizations. He is a founding and past executive committee member of the International Society for Applied Phycology, a past member of the Phycological Society of America, the International Society of Food Technologists, and the American Association for the Advancement of Science to mention a few. As a very well recognized expert in algae biotechnology and health and other applications, he has been an invited speaker in numerous venues nationally and internationally He is also a director of the Algae Biomass Organization, a non-profit organization promoting the development of viable technologies and commercial markets for renewable and sustainable commodities derived from algae. He is also currently a board member of the Ethiopian Environment and Sustainable Development Council (EESDC) based in the USA.
Prior to joining Earthrise, Dr. Belay was Associate Professor and Head of the Biology Department, Science Faculty, Addis Ababa University, Ethiopia, Senior Fellow of the Third World Academy of Sciences, Italy, a research fellow at the Freshwater Institute, UK and a Senior Fulbright Fellow at the University of California, Santa Barbara. Dr. Belay has published several scientific papers, and has served as editor, editorial board member and reviewer of many journals.
He continues to be involved in university affairs in Ethiopia, advising students and participating in conferences. He has established a modest fund to support the participation of young scientists in the annual meetings of the Ethiopian Fisheries and Aquatic Science Association (EFASA) of which he is a member. He is also in professional contact with his former students, now professors in universities in Ethiopia and overseas.
Dr. Belay earned a bachelor's degree in biology from Haile Selassie I University (now Addis Ababa University) in Ethiopia and his doctorate from the University of North Wales, UK. His Ph. D. work was the first experimental study to elucidate the phenomenon of inhibition of photosynthesis at lake surfaces which is significant in relation to primary production of algae in aquatic systems.
He is a recipient of the "Distinguished Applied Phycologist Award" from the International Society for Applied Phycology and a "Lifetime Achievement Award" from the Algae Biomass Organization.
Ato Mersie Ejegu, Board Member
Dr. Wubalem Tadesse, Board Member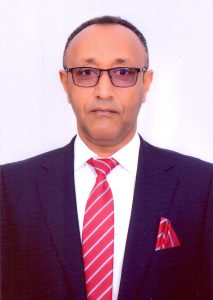 Dr. Wubalem Tadesse
Dr. Wubalem has Ph.D. in Forest Genetics and Tree improvement (1997-2001) from Polytechnic University of Madrid, Spain and M.Sc. in General Forestry (1983-1988) from Pinar del Río University, Cuba.
He has more than 33 years of work experience in forestry development and research in various government ministries, research institutions with different responsibilities. Since April 2018 to date he is working as Lead researcher in Ethiopian Environment and Forest Research Institute (EEFRI). He served EEFRI as a founder Director General for three years (May 4, 2015, to April 26, 2018). He also worked at the Ethiopian Institute of Agricultural Research (EIAR) for 13 years. He has coordinated several forestry research projects and programs, and as a Director of forestry research for six years (September 2008 to May 2014).
He has published numerous articles in book chapters, peer-reviewed journals, and conference proceedings. He has advised and examined many MSc and PhD students in Ethiopian and foreign universities. He actively participated in different collaborative research projects with national and international partner research institutes and universities.
Dr. Wubalem conducted several professional consultancy services in different forestry and natural resources related areas in Ethiopia with national and international partners. He has delivered several Presentations and Keynote Speeches in numerous national and International Conferences.
He is actively involved in different national and international professional associations: IUFRO (International Union of Forest Research Organizations) President's nominee for Africa and Board member; Ethio Natural Resources Organization (Local NGO, Founder and Director); Ethiopian Forestry Society (member and President of the Board); Ethiopian Academy of Sciences (Fellow); Green Art for Environmental Protection and Social Development Organization (Board Member).